Note: Proceeds from sales on this web site go to
help victims of natural disasters around the world.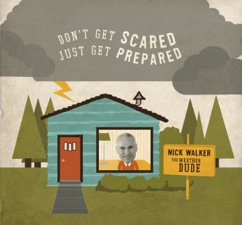 "Don't Get Scared, Just Get Prepared"
Eleven songs to get you ready for severe
storms and have some fun doing it!



Do you know someone who is afraid of thunderstorms, tornadoes or hurricanes? Do you want to get your family or students ready for severe weather in a fun, non-threatening way? In popular musical styles ranging from pop to blues and salsa to surf, Nick gives young people the information they need to feel safe in any kind of severe storm.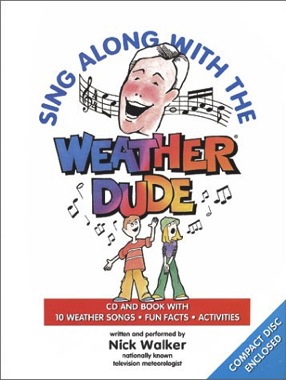 "Sing Along with the Weather Dude"
Ten catchy songs with activities to teach kids the basics of weather!

| | |
| --- | --- |
| | CD with Activity Book $14.98 |
| | |
| --- | --- |
| | Additional Activity Book $4.98 |
I
n a fully-produced recording, Nick Walker, on-camera meteorologist for The Weather Channel® makes complicated concepts simple, singing ten fun original songs, each one an entertaining mini-lesson in meteorology. In styles ranging from light rock to light rap to ballads, Walker guides children through cloud types, rain, snow, wind and air pressure, thunderstorms, the seasons, the water cycle & forecasting.


---------------------

To pay by check or school purchase order, send your name and e-mail address to songs@wxdude.com to have a mail-in order form automatically e-mailed to you. Or download and print out an order form to mail in here. For faster delivery, you may pay by credit card by clicking on the "Add to Cart" logo above. Orders are usually mailed within 24 to 48 hours after they are received. For your classroom, additional Sing Along with the Weather Dudeactivity books without the CD are $4.98 each (1-5 copies). (Send e-mail to ask about discounts for more than five copies.)





Do you want your books or CDs autographed? Indicate in "Special Instructions" box on checkout if you would like them autographed and to whom.

*
International customers
:

Orders from countries other than the U.S. and Canada are not available from this site. If you need to ship to another country, please order through Amazon.com or download the songs using the links to the right.

To pay by check or school purchase order, have an order form e-mailed to you. Send your name and e-mail address to
songs@wxdude.com
Download Order Form